Running water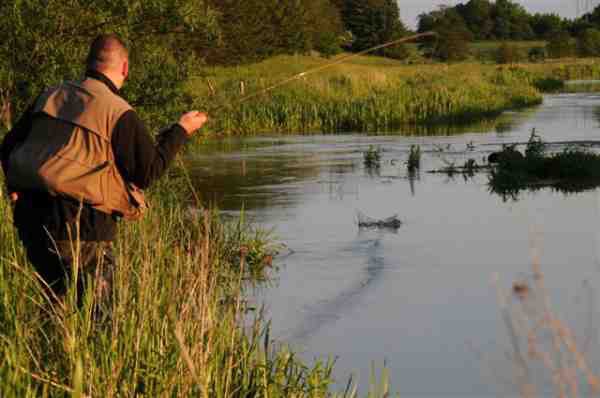 Zealand is probably not so well-known for its rivers, but do not be fooled. There are lots of exciting and overlooked possibilities if you like fishing in rivers and streams, no matter whether you like to fish with live bate, spinners, or flies. Here you can encounter predators like brown trout, sea trout, pike, perch, walleye and eels, and there are also plenty of roach, bream and orfe if you prefer fishing with live bait.
Strikes on the surface
You can fish with dry flies in several rivers on Zealand – in particular from the end of April through September where the brown trout start moving upstream. There are probably not as many insects along the rivers of Zealand as there are in the clear waters in the Jutland heath, but with a little luck you can find newly hatched mayflies and caddis flies, and here you will be sure to attract the attention of even the biggest fish in the river.
The majority of Zealand's dry fly rivers are relatively shallow, and a number of them become overgrown in the course of the summer. Thus, fairly short fly rods (#2-4) are a good idea, and generally it is a matter of sneaking up on the fish and casting precisely rather than sending out a long cast.
Some of the Zealand rivers that are good for fishing for brown trout with dry flies are Halleby Å, Havelse Å, Tuse Å, Elverdams Å, Øvre Suså, Øvre Køge Å, Usserød Å, Tude Å and Græse Å. You can also fish successfully with nymphs in these rivers if the insects aren't hatching the day you are there, and if you try spinners you can experience fantastic fishing for brown trout with small spinners and wobblers. But remember that the brown trout population is relatively vulnerable and that the big fish in particular are vital for reproduction and the survival of the species. For this reason Fishing Zealand recommends that you primarily practice catch and release when fishing for brown trout and that you are especially considerate when it comes to the larger fish.
Sharp teeth in running water
Zealand hosts a neglected but extremely exciting kind of fishing for pike in running water. Here you should look for rivers with a good depth and width and with a minimum of current. Pike prefer relatively still water with lots of grass where they can lie in wait ready to snap out at unsuspecting prey.
You can fish for pike in rivers with regular spinning gear, flies or live bait. As long as you remember to use a wire or fluorocarbon trace, so the pike doesn't snap or break your line with its many spiked teeth, there is no limit to what you can catch a pike on. Live or dead bait (like roach or alburnus) fished under a float is a particularly good choice, but you can also be more explorative and get the pike's attention with spinners, wobblers, jigs or flash flies. You will need fairly strong rods, reels and lines to engage in a fight with the pike's muscles and wild nature.
The best place to fish for pike in many of the larger rivers is in the lower stretch, where the rivers spread out and the current weakens. This is true, for example, for Suså, Tryggevælde Å, Tude Å and Halleby Å. All of these rivers require a day permit. You can get one by contacting the local fishing clubs. And we should not forget the Lammefjord canals that have traditionally produced some really big mature pike.
Fishing for the black striped robber
We are not exaggerating when we say that Zealand hosts some of the very best fishing for perch in Northern Europe. You can catch perch in all of the rivers in Zealand, but the southern and eastern rivers that flow into brackish water are the best. You can experience amazing fishing for perch in these rivers from October to March with a good chance of catching real trophy fish weighing over 2 kilos. The brackish water perch migrate up into the rivers to spawn, and here you can encounter large schools of migrating fish. In Tryggevælde Å, St. Vejle Å, Køge Å, Suså, Flintinge Å and Marrebækken, for example, there are good chances of catching some nice perch, and when the fishing is good, you can land a lot of fish. But remember again not to be overeager and to give special consideration to the larger fish. The perch are in the river for a reason, namely to preserve their own species.
Perch are generally easy fish to catch. You can catch one on anything from small spinners, flies and wobblers to worms, shrimp and roach. But sometimes they can be a bit moody. Generally, the best days to fish for perch are those with rising barometric pressure, stable temperatures and partly cloudy skies. But you can nearly always get them to bite – no matter what the weather is like – using roach or fjord shrimp.
Sea trout in the river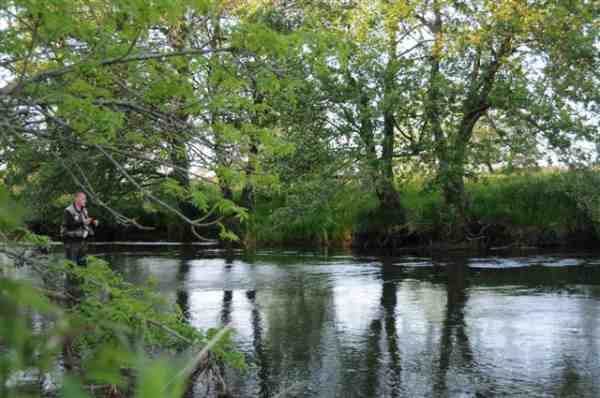 Although spawning typically takes place in December and January, the sea trout start wandering from the coast and up the rivers of Zealand already in July. The spawning migrations are not at their peak before sometime in September, and there are good chances of catching a shiny silver sea trout from mid September to the 16th of November, when they are protected, and from the 16th of January when they become in season again.
You can catch sea trout with spinners, spoons, wobblers, flies, and not least with worms. They are usually found in the deepest holes in the rivers, along dug out banks and behind grassy areas or large rocks. Sea trout gradually lose their striking instinct when they are in the rivers, so here it is better to irritate and provoke them than merely to encourage them. For this reason, lures in sharp colors and "noisy" lures like spinners and wobblers with built in rattles work well.
The sea trout is a strong fish, and since it also can become pretty big – (fish over 10 kilos are caught every year) – you need relatively strong gear: for example a 9' spinning rod with a casting weight of 20-25 grams mounted with a spinning reel carrying 0.25mm braided line. And fly fishermen should not underestimate the sea trout's ability to fight. It would not be going too far to suggest a #8 set up with a corresponding sinking line.
Some of Zealand's best sea trout rivers are Tuse Å, Halleby Å, Tryggevælde Å, Køge Å, St. Vejle Å and Nivå, all of which require that you have a day permit from one of the local clubs before you can fish.