Put and Take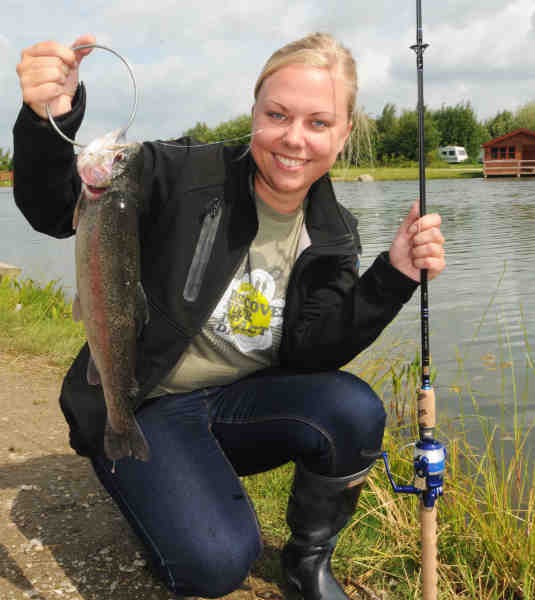 There are also a lot of commercial put and take lakes on Zealand. Here you pay by the hour or day, and the lakes are stocked with fish intended to be caught and taken home. Most of the put and take lakes are stocked with rainbow trout, but some of them also offer fish like brown trout, brook trout, golden trout and salmon. In addition, there are a few specimen put and take lakes where you can fish for carp, tench and sturgeon.
You can fish in put and take lakes year round – as long as they are not frozen, but there are particularly good possibilities for catching prime trout during spring and fall when the water temperature isn't too high. Early in the morning and late in the afternoon are good times to try your luck, and otherwise it is just a matter of being patient and experimenting a lot with different bait or lures in various sizes and colors. Even though these lakes are full of fish, it isn't always easy to get them to bite.
Put and take lakes do not require specialized gear, and whether you like spin fishing, fly fishing or fishing with live bait, your chances of catching something are good. The fly fisherman should dig deep into his fly case for smaller streamers and small nymphs that can imitate the lake's water insects: amphipods, diving beetles, damselflies, mosquito larvae, caddis fly larvae and mayfly nymphs. Marabou provocation flies in black or flashy colors can also be an excellent choice. Standard fly fishing gear in #5-7 works fine in put and take lakes, and as a rule, a floating line is a good choice. In the summer months, however, you might prefer to use an intermediate or sinking line, since the fish can have a tendency to be a bit deeper. Remember that a long, thin tippet can be a good idea since the fish can be pretty shy and cautious. For this reason it can sometimes be advantageous to fish with tippets as low as 0.12-0.15mm.
Fishing with bait can be successful with live bait like earthworms or with some of the scented bait that is now found in most fishing shops. GULP and Powerbait are a couple of products that have clearly demonstrated that they can catch fish in put and take lakes. They can be used most successfully behind a bombarda float reeling in with a relatively even and slow motion. When the fish strike, you should wait a few seconds with a loose line until the fish has inhaled the bait, then give it a jerk – and the fight has begun!
Fishing with spinners is good with smaller casting lures like spinners, wobblers or spoons. A 6-8' spinning rod with a casting weight of 5-20 grams combined with a little spinning reel with some 0.15-0.20 mm braided line is perfect for this type of fishing. The lures should be fished with variation in speed and with breaks where the lures briefly can sink freely. This kind of stop in spinning – or a sudden acceleration of the lure – can often be what you need to entice the fish to strike.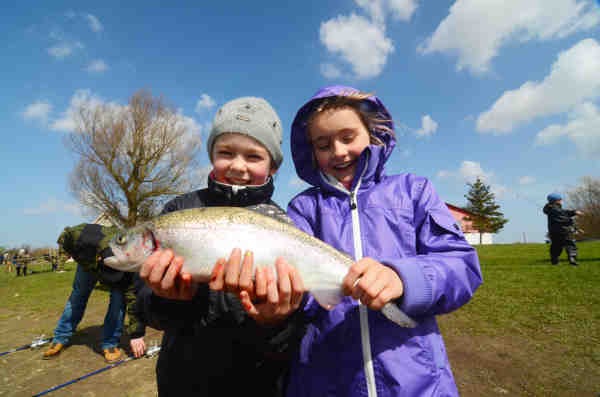 The price for 3 hours of fishing runs somewhere between 50 and 150 Danish Crowns, and if you want to fish for a day, you can usually get a discount. Fishing is usually easily accessible, even if you have trouble walking on rough ground, and if you don't have your own fishing gear, you can usually rent what you need. Many put and take lakes also provide comfortable benches, fish cleaning stations, toilets, shelters, as well as cafeterias and fishing gear for sale. Thus, there are great opportunities for enjoying good fishing without having to worry about logistics, special equipment or lack of experience. Put and take fishing can be enjoyed by all – experts as well as beginners.